Welcome
Want to get fit, lose weight, tone muscle, release stress and build confidence all whilst meeting new people and having fun?
Then get yourself to one of my classes! I can help you on your journey to being a fitter, healthier and more confident you! I offer a wide variety of fitness classes in the Cwmbran area, ranging from Zumba to Pilates, which are suitable for all fitness levels, abilities, shapes, sizes, genders and ages (16+)

My classes are not only fun, but a great workout! I guarantee you will go away sweating and smiling, so what are you waiting for? Join me today!
About Me...
My name is Olivia Sweeney and I am a Fully-Qualified Fitness Instructor. I am absolutely passionate about exercise and started training in the fitness field when I was just 18. I now hold my Level 2 Group Exercise and Gym Instructor qualifications, as well as certifications in Zumba Fitness, Zumba Step, Pilates, Circuit Training, Powerhoop, FitSteps, Kettlercise, Piloxing and Just Jhoom! I also hold my Level 3 Qualifications in adapting exercise for Pre and Post Natal clients, Yoga and Personal Training.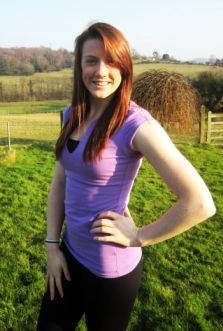 I have taught in various health-clubs and leisure centres in the past, but since 2010 became self-employed, established my own business and now run an assortment of my own private fitness classes including Zumba, Powerhoop and Pilates. These classes are all held in the Cwmbran area.

Although I'm qualified to teach all sorts of fitness disciplines, Zumba Fitness takes up most of my time. I've been a Zumba instructor now since November 2009, and am still loving every minute of it!
I first tried Zumba as a student when it came to South Wales in 2008, and instantly fell in love with the programme! I loved how it embraced everybody, no matter what age, gender or fitness level you were. I was so inspired by it that I went out and took the course, and got certified! 2 weeks later I was teaching my first class, and I have never looked back!

I absolutely love my job! I love seeing people reaching their goals, and enjoying keeping fit. I know how much happier and healthier I have become through exercise, I'm certain it will do the same for you too!
I hope to welcome you to one of my classes soon!